Sponsors
Contributors
Colleagues

Organizations that have given donations, services, or equipment to the Project include:
Arcady Press
Arcady Press has provided seed funding for the book and the Project as a whole.
The Internet Archive
The Internet Archive has graciously given the Project the resources to co-locate our main server, not to mention invaluable advice and help.

PostMaster
PostMaster has donated site announcement services to the Project.
Your organization could be here!
Tim Berners-Lee, the Web's inventor, gave members of the Project early access to his recollections and historical materials starting in 1995, and was of invaluable assistance in opening doors for our efforts.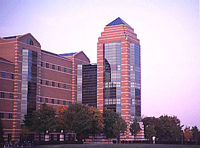 Beckman Institute, home of NCSA,
on the University of Illinois campus

Organizations that have provided crucial cooperation to the Project include:
The Bootstrap Institute
Brown University
CERN
The Computer Museum
EIT/VeriFone
InfoDesign
The Internet Archive
Laboratory for Computer Science, MIT
NCSA
Netscape
O'Reilly and Associates
SLAC
Spyglass
Stanford University
Xerox PARC
The World Wide Web Consortium

Digibarn